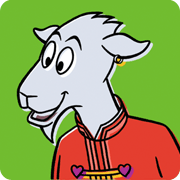 Hey everybody! It's me, Gus, coming at you straight from our new website – do you like it? COOL, right? I would change a few things if I had my way (like add more pictures of me), but I can't do everything. I have to share, know what I mean?

In case you don't know, I'm the lead singer of The Rattles. We just finished our new album, Rattle On, and – can I just say -  it's great!

Since I was a little kid, all I ever wanted was to sing in a band. Now I am doing just that with Kitty, Hal and Sal in The Rattles – and they are lucky to have me! (Don't tell anyone,  but I'm lucky to have them too!)
The only hard part for me is to share all my great ideas with the rest of the band! Well, it's not that hard really, but I know how to write a song and sing really well. Like I always tell the band, "Nobody does Gus better than Gus!" But nobody does Kitty, Hal and Sal better than Kitty, Sal and Hal, either. So sometimes I have to remember that they have talent and good ideas too.

Hey! – I'm trying 
I'll be sure to share more stories about me and the band right here. It's going to be great, I promise!